The Definitive List of Best Web Design Software and Website Builders
Building a new website? What software should you use? Here we cover the best web design software and best website builders to make the proc...
Building a new website? What software should you use? Here we cover the best web design software and best website builders to make the process ...
The Definitive List of Best Web Design Software and Website Builders
Starting up a website? If it's your first time creatingyour own site or diving into the world of web design, you're probably not quitesure where to start. There's so much software out there, where to even begin?
You're going to need the right tools that fit the scope ofyour project. Perhaps you want to get into web design as a career — if that'sthe case, you'll want special software and frameworks to build on. But ifyou're just making a simple startup website quickly and easily, the tools youuse will be very different.
Whatever your goal here, one thing is for certain:designing an aesthetically appealing site plays a key role in retainingvisitors. 94% of all first impressions on a website are , and 48% of people said a site's design is the in deciding the credibility of a business.
Your site can leave a real impression on your users, andit's going to make a big difference between whether they decide to stick aroundor move on to somewhere that looks better and more credible. That's why youneed professional tools to help you create the perfect design, whether you're atotal beginner or have worked on websites before.
We've put together this comprehensive list of best webdesign software, and we'll help you choose the one that's most suitable foryour goals and skill level.
Table Of Contents
What Type of Software Will You Need
There are many reasons you might want to create a website,and several methods you can use to do it — some harder than others.
Website builders are the most basic of web designsoftware. Intended for beginners, personal projects, and small businesses, theyoffer an easy-to-use toolkit and publishing options right on the platform. Noneed to deal with domains or hosting. If you just want to make a simple sitefor a small project, they're a decent place to start.
What if you're looking to get into the web designbusiness, or just want to hand-make your own site from scratch? If that's thecase, look for graphic design software that can help you wireframe, mockup,prototype, and create assets for your website.
There are also front-end frameworks like Bootstrap, whichoffer pre-made components that make working with CSS, HTML, and Javascript alot easier. They can help a lot if you'll be coding your site too.
Finally, there's WordPress. Simple yet versatile, it offers features that are easy for beginners to learn but have plenty of potential for more advanced needs. If you want a complex website without having to code it all yourself, this is a great place to start. And since you can make your own themes and work with front-end frameworks, it's also a great platform for budding web designers as well.
WordPress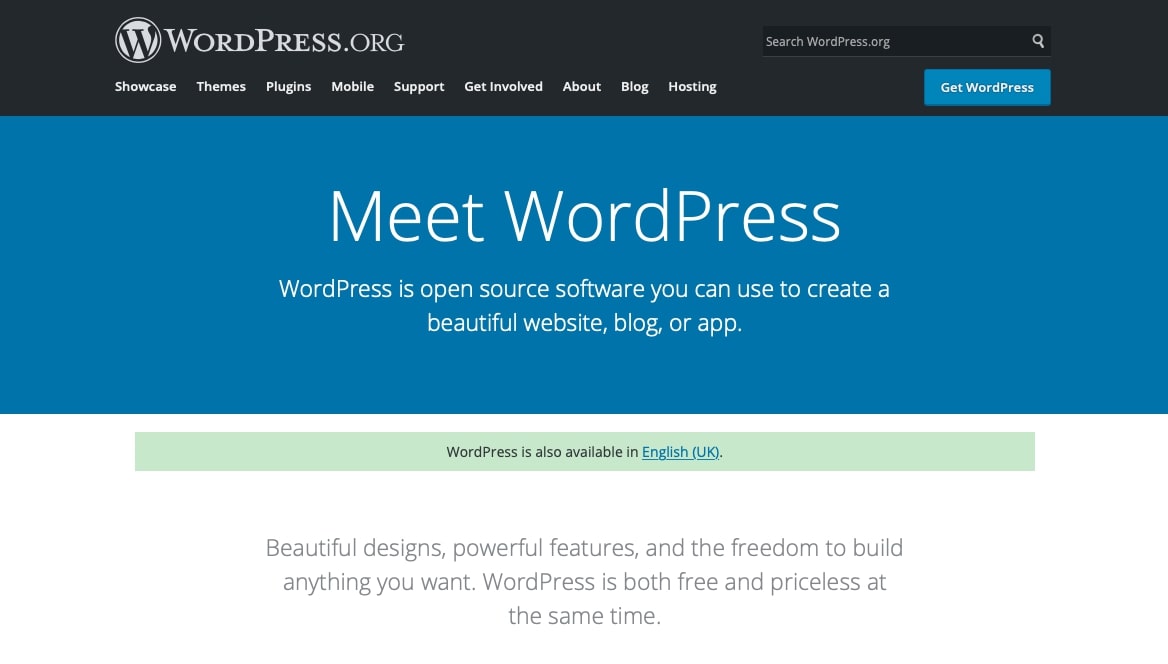 WordPress is the ultimate platform for beginners because it's so simple to learn, yet holds so much potential. It's the middle ground between site builders and coding a site yourself; it offers almost all the functionality you'll ever need, while also being super easy to get into, even if you've never created a website before.
By default, WordPress is kind of like a blank slate.There's not much to it except some very basic design capabilities, and theability to create pages and blog posts. But the real magic is in the themes andplugins. These are what allow you to create your dream site.
Themes can be found on or third-party sites like . These often add special theme options, which you can use to customize its colors and appearance. The options are usually fairly simple, but you can create a good-looking if a basic, site with them.
Meanwhile, plugins can do anything from adding a widgetlike a form to your site to completely overhauling how it works.
For example, is a plugin that adds the ability to craft your websitein fine detail, essentially turning WordPress into a free website builder.Elementor themes like can give you even more customization options. Usingplugins like these, WordPress becomes as easy to use as a site builder, withten times the potential.
Pros:
Cons:
WebsiteBuilders
Struggling with WordPress, and have no interest inlearning advanced web design skills? Want to just get a simple websitepublished online without too much hassle? A website builder is perfect for you.These online platforms offer a web design toolkit that fairly easy to work with.
There's not a lot of depth to them, but if you don't needmuch in the way of advanced features from your website, they're a great choice.Here are some of the best website builders.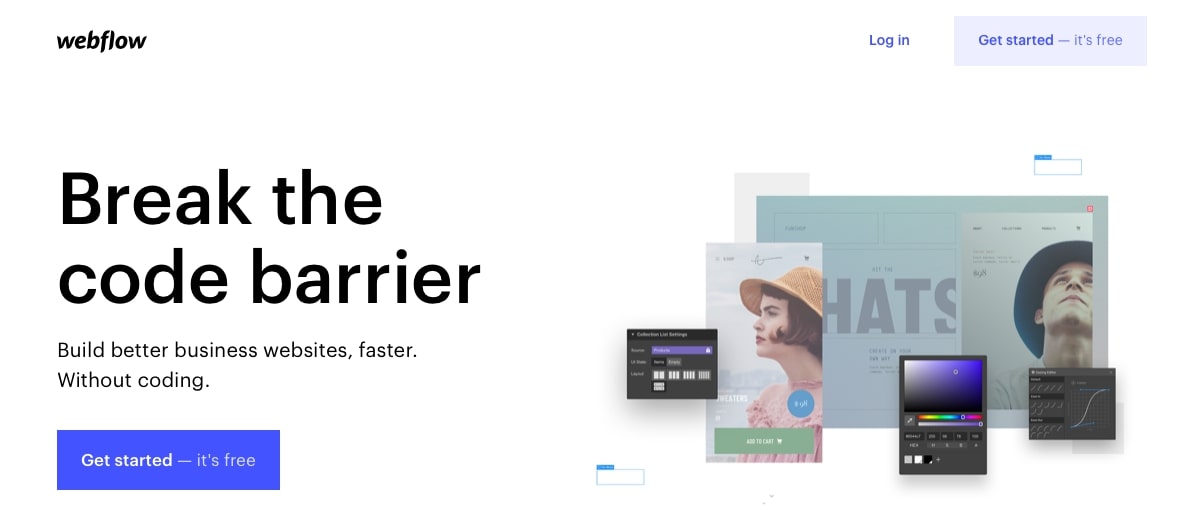 Webflow was created to make high-quality websites without any coding. With the right touch, it can be hard to tell sites made in Webflow from those created by actual web designers. It's a highly professional platform, and it even comes with managed hosting built-in.
The tool is a little bit harder to use as far as sitebuilders go, and it'll take some time to learn. But it's one of the bestcode-free builders out there. Webflow is free to start, and you can take aslong as you like creating your website. You only have to pay once you're readyto go live.
Pros:
Cons: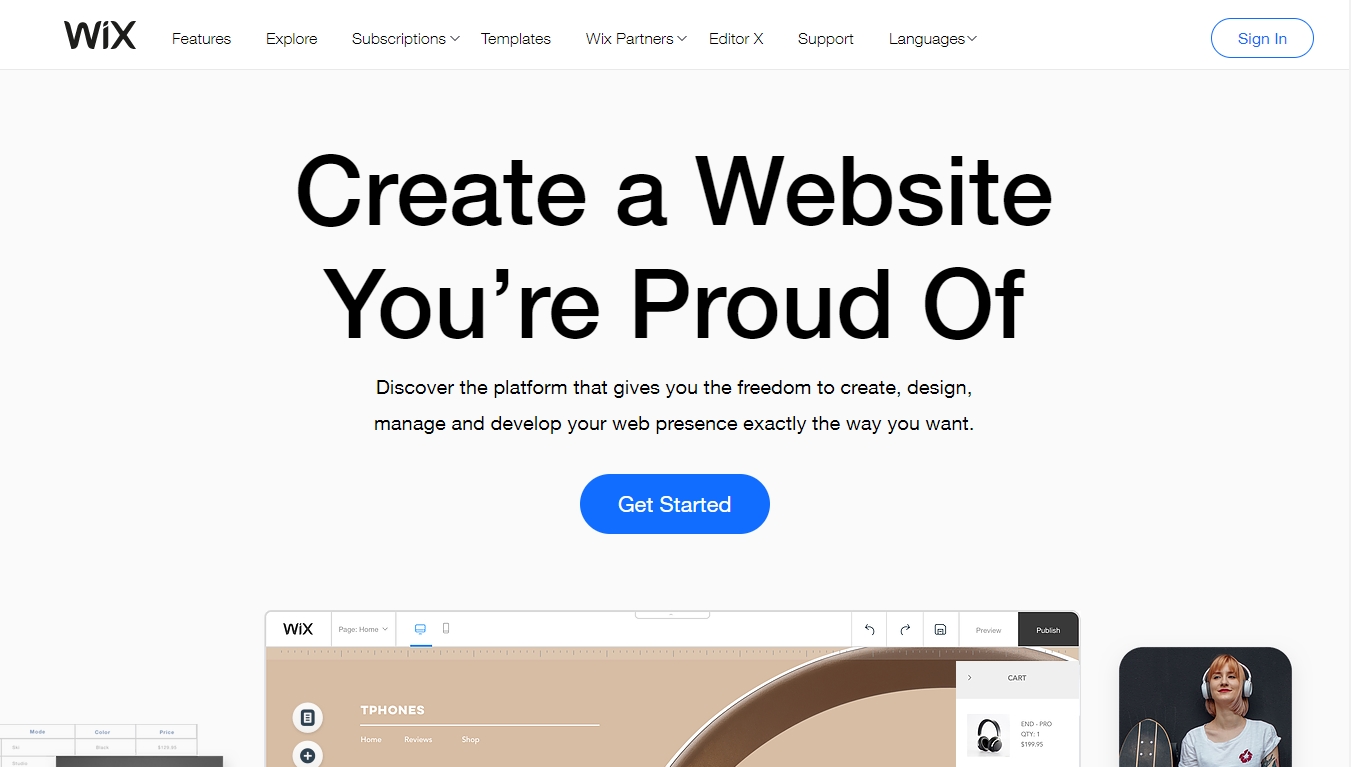 If you're looking for a simple, easy to use, free website builder, Wix is many people's first choice. Wix is oriented towards startup businesses with many eCommerce features, but you can also use it for small personal projects or even blogs.
Wix is free to start with several themes and websitecomponents to work with, plus you can host your site on their subdomain. If youwant to add a custom domain, sell products, or get more storage and bandwidth,you'll need to upgrade to a paid plan.
Pros:
Cons: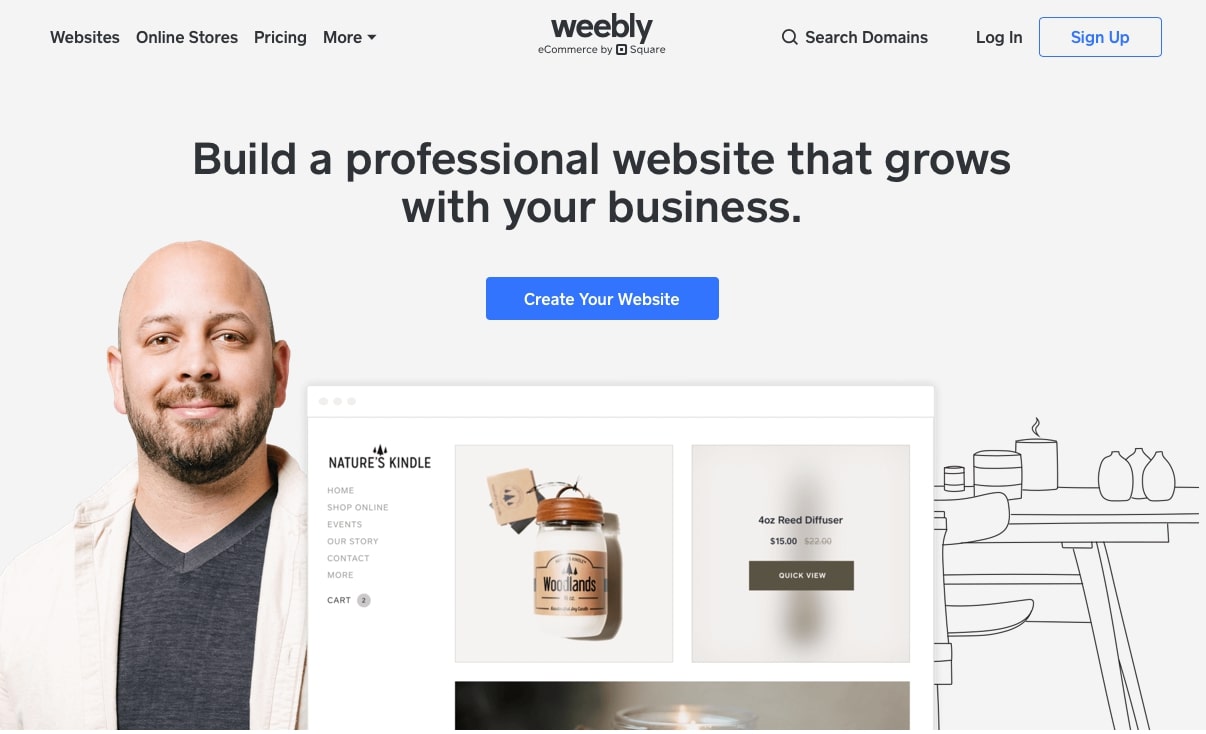 Weebly is very similar to Wix in many ways, but it's a little easier to use with a cleaner, less overwhelming interface. It also supports features for small businesses, but unlike Wix, you can sell things even on the free plan.
While it's not as content-packed as other builders, forwhat it is, Weebly is a fairly good platform if you need to create a simplewebsite. Its free version is probably the most content-packed out there.
Pros:
Cons: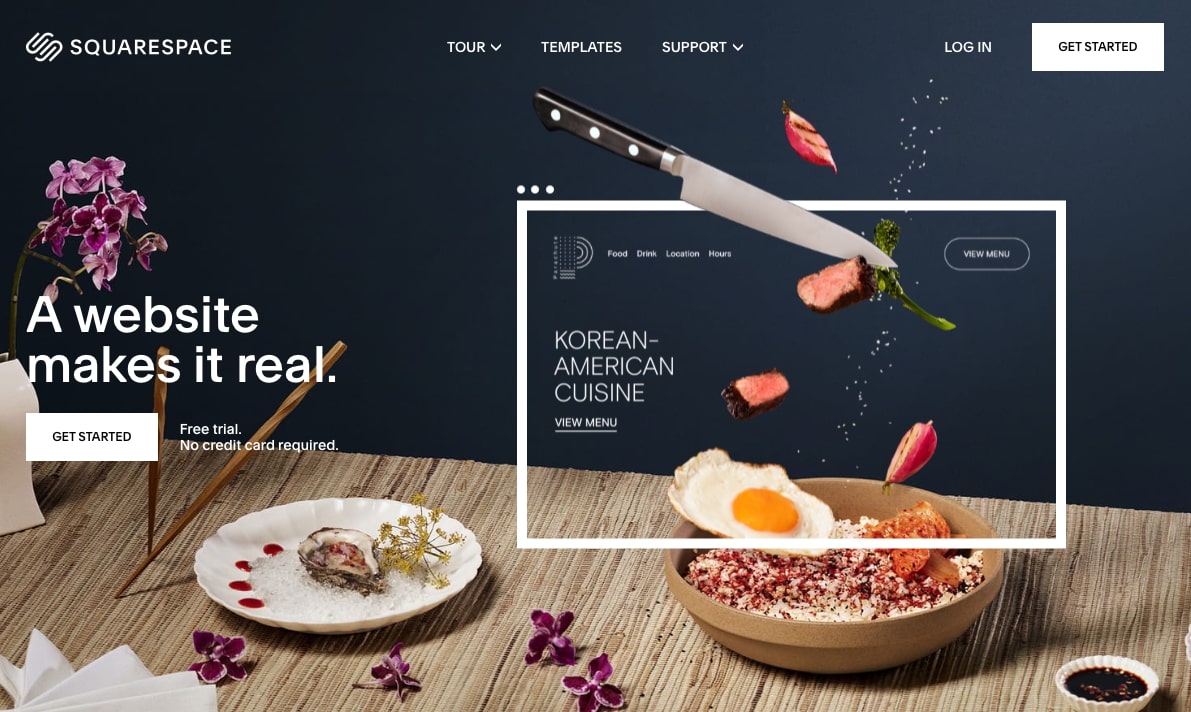 Squarespace is a professional, high-quality platform with a big focus on eCommerce. Its site builder looks awesome, and it comes with all sorts of other features to help you market and grow your business. Unlike simpler website builders, Squarespace provides a platform to grow on. Even once you stop being a small startup, you'll still have a great host for your website.
Pros:
Cons: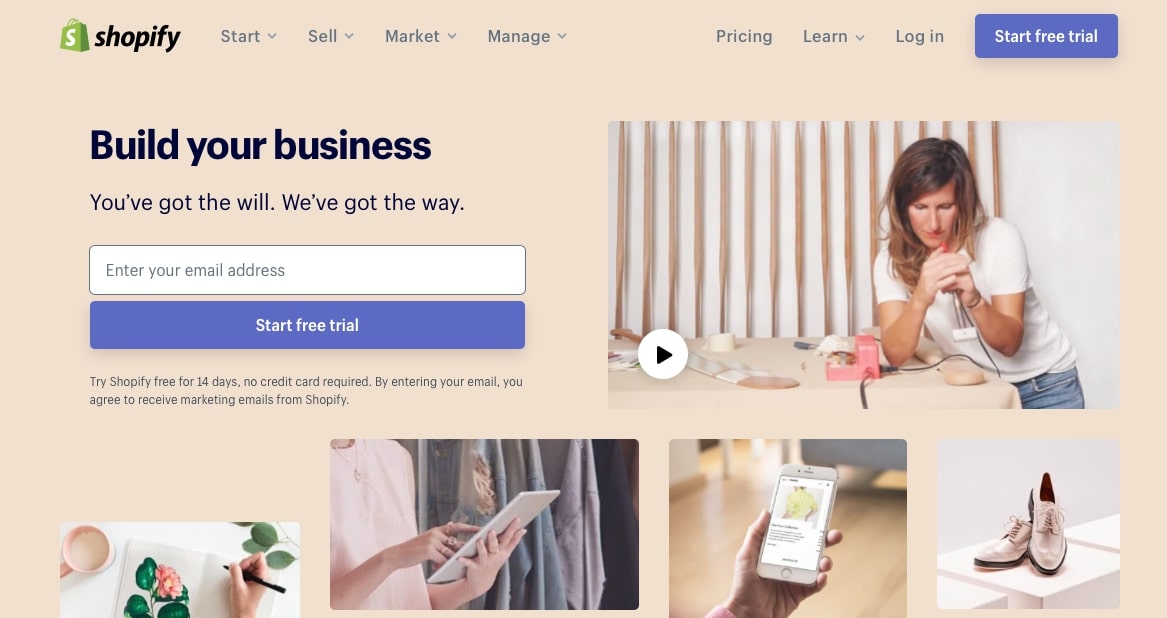 Shopify is all about eCommerce. Every one of its features is centered around building an online store, accepting payments, and marketing your business. Most of the focus is on this, but it does come with a pretty good WYSIWYG editor.
The downside is, compared to simpler site builders, Shopify is quite expensive. If you're not going to make full use of the eCommerce features, it's probably not worth the price.
Pros:
Cons:
Web Design Graphics Software
If you're going into web design as a career, or want totry your hand at designing your own website, you're going to need a widevariety of tools.
You should do plenty of research on the process of web design if you want to go this route, but in short, the software you need might be used to wireframe, mockup, and prototype your creations.
You may also need a general-purpose art program to createassets like buttons, backgrounds, or decorations. Learning the ins and outs ofeach program can take a lot of practice, so make sure you choose the best onesfor you!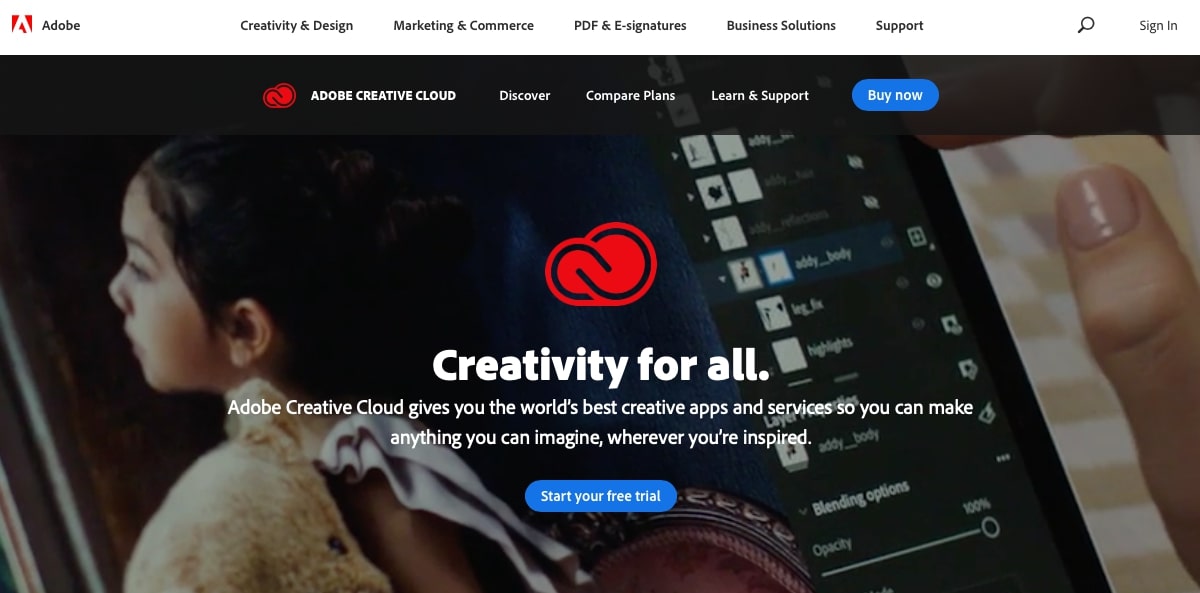 Adobe products have been a staple of the web designbusiness for a very long time. Though competitors have emerged throughout theyears, many designers still rely on Adobe products to get their work done.
Photoshop is for image editing and graphics creation, XDcan make web prototypes, and Dreamweaver lets you code and see your work live.And that's not even the half of it.
Pros:
Cons: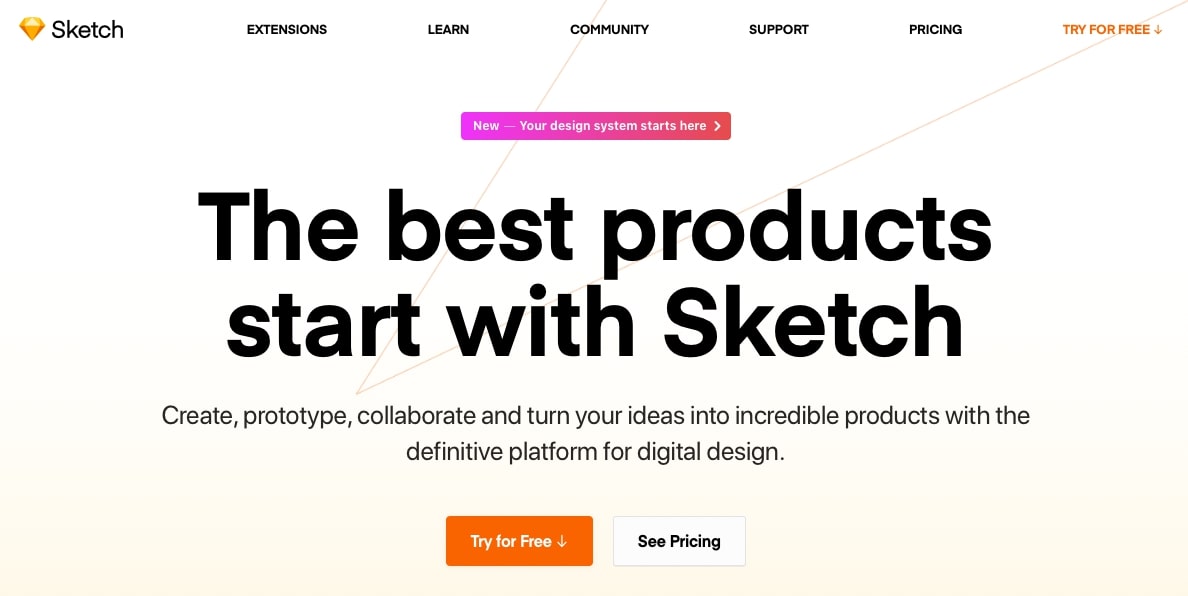 Built for designers, Sketch is a vector graphics editorthat majorly competes with several Adobe products. Designing, prototyping, andeven collaborating is built right in, and it has almost everything you'll needto draft up a stunning website design.
At only $99/year — and the ability to continue usingSketch once the license expires — you get a lot more for your money compared toCreative Cloud.
Pros:
Cons:

Photoshop has always been expensive, but free alternatives with comparable tools exist. GIMP isn't a vector editor and doesn't have great web design features, but if you need a program for creating graphics that don't cost an arm and a leg, it's the way to go.
Pros:
Cons: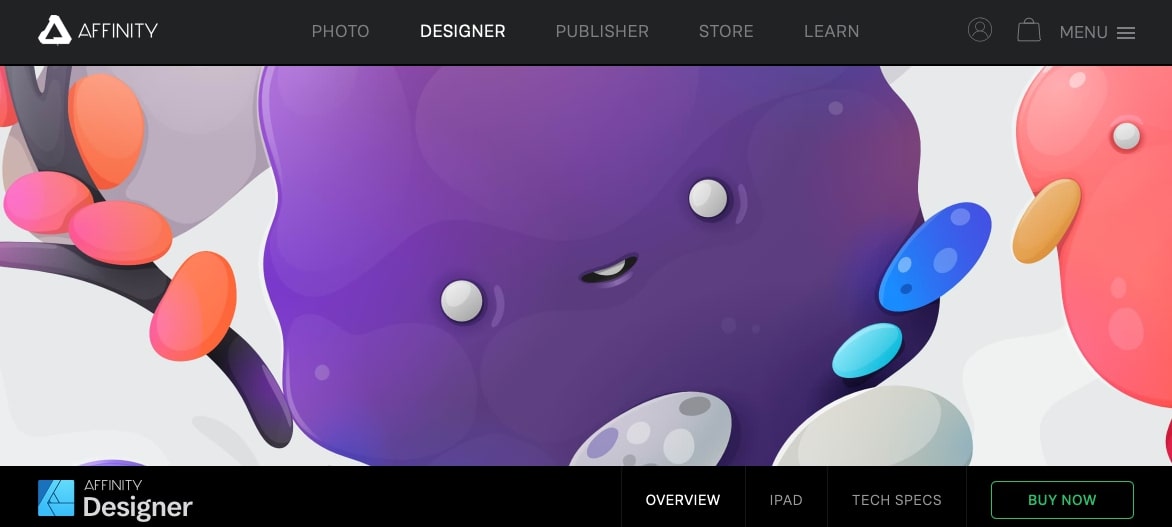 If you need a graphic design tool a little moreprofessional than GIMP, but less expensive and difficult to use than Photoshop,Affinity Designer is worth trying. It offers both vector and raster graphicsediting, making it a good replacement for both Adobe Illustrator and Photoshopin one. Just a one-off fee of $50 gets you a great editor for your graphicdesign work.
Pros:
Cons: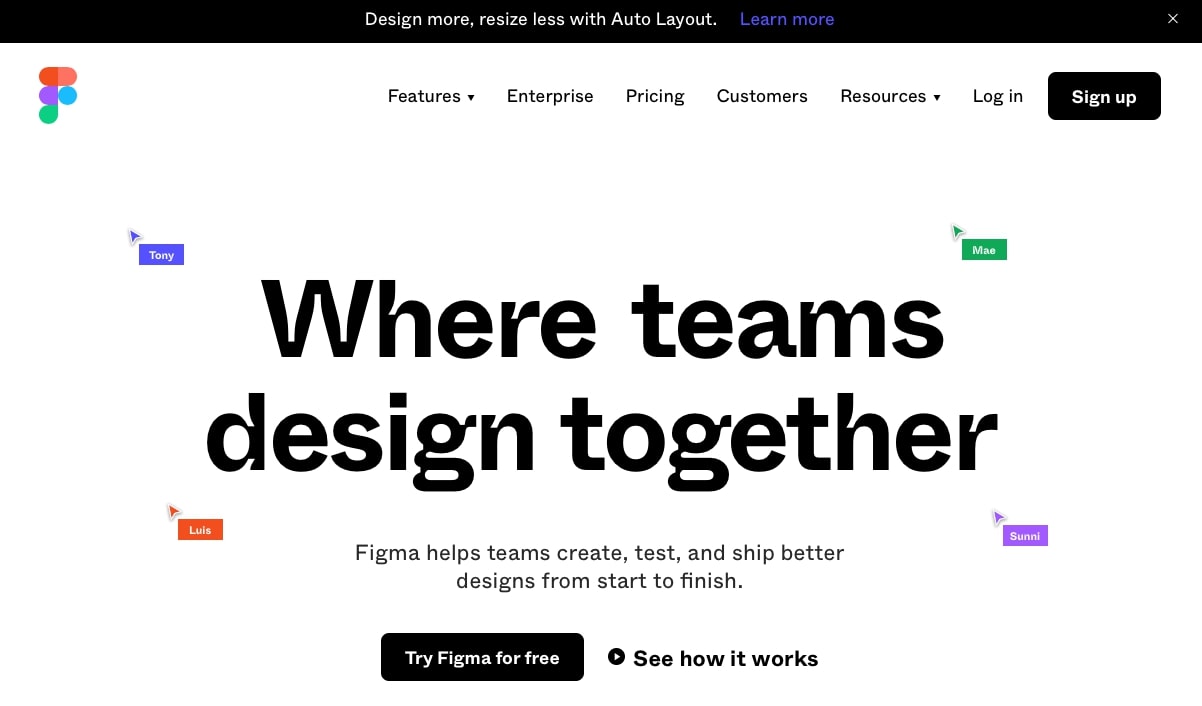 Built for collaboration, Figma is the perfect solution ifyou want to work alongside your team. Prototyping is fast and easy, and onceyou create a design system, your workflow will become even more optimized sinceyou can use it in every project. It's free to start too, so small teams don't haveto pay anything.
Pros:
Cons: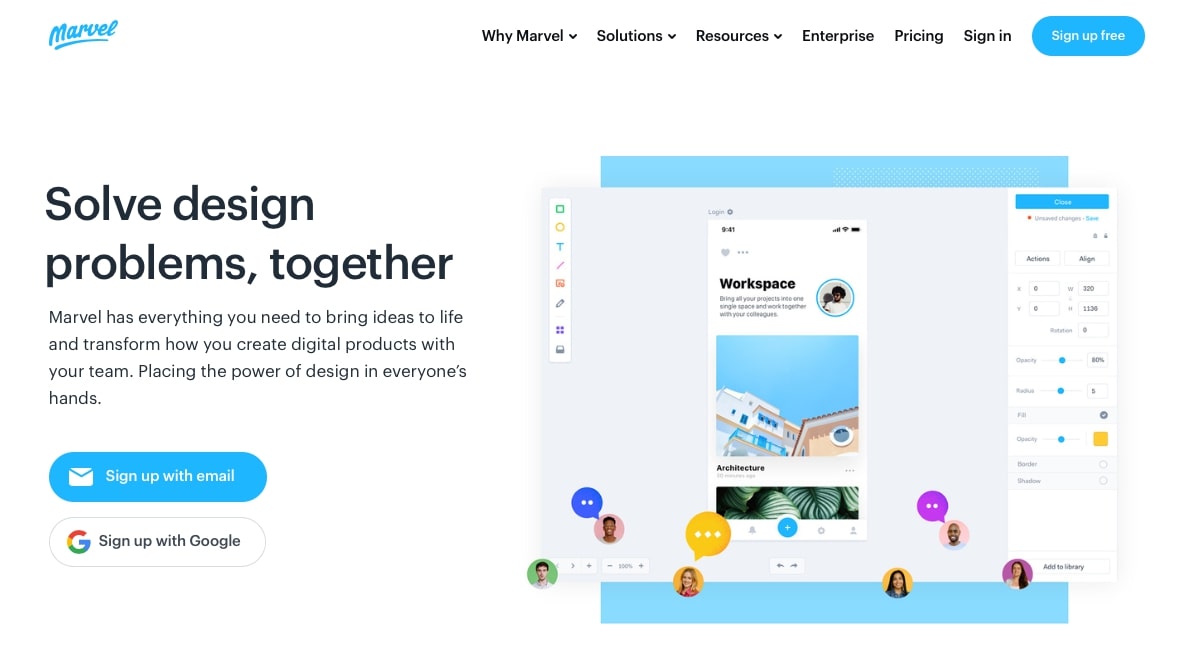 Tired of flipping between programs? Want just one designtool where you can wireframe, mockup, and prototype websites in a centralizedhub? Marvel has all the features you need to design beautiful websites fromconcept to developer handoff.
Pros:
Cons: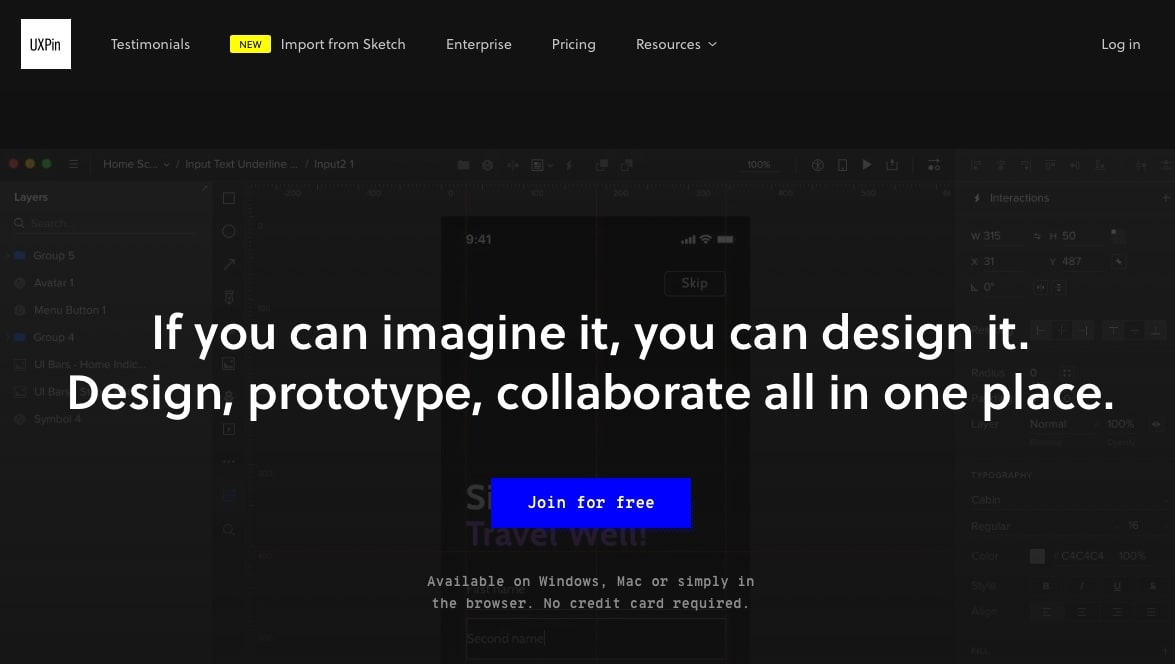 UXPin is another all-in-one platform that provides thetools you need to create realistic prototypes. Using code components,conditional variables, and actual interactive elements, you can createprototypes that feel real. But wireframing and mockups aren't left out either,with the same careful attention given to their features.
Pros:
Cons: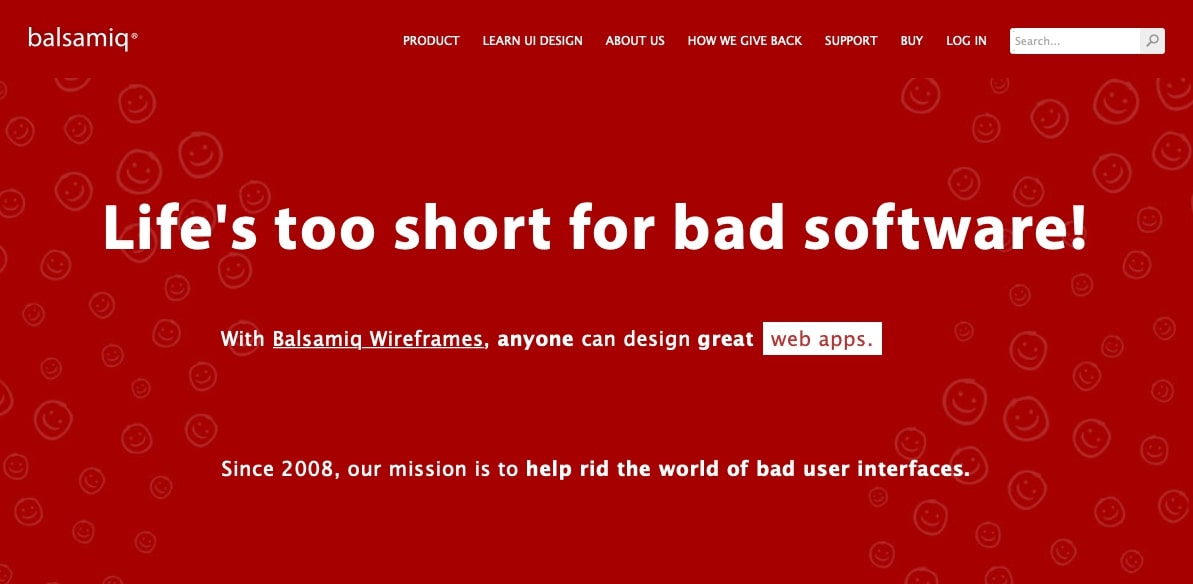 Balsamiq is purely focused around wireframing, and itprobably does it best out of any other tool. You can create both clean vectoroutlines as well as rough sketches, and switch between the two modes at will.Keyboard shortcuts and quick add features help you develop a faster workflowtoo. Overall, it's a solid program if wireframing is an important part of yourdesign process.
Pros:
Cons:
Web Design Frameworks
Looking not just to design websites, but to code yourprototypes using HTML, CSS, and Javascript? Look for front-end frameworks.These little libraries help web designers and developers by giving you a solidbase to work on, and access to components for things like buttons, forms, andsliders.
If you're brand new to development, programming fromscratch might not be the best idea. Using a framework can help you writecleaner, more responsive code in much less time.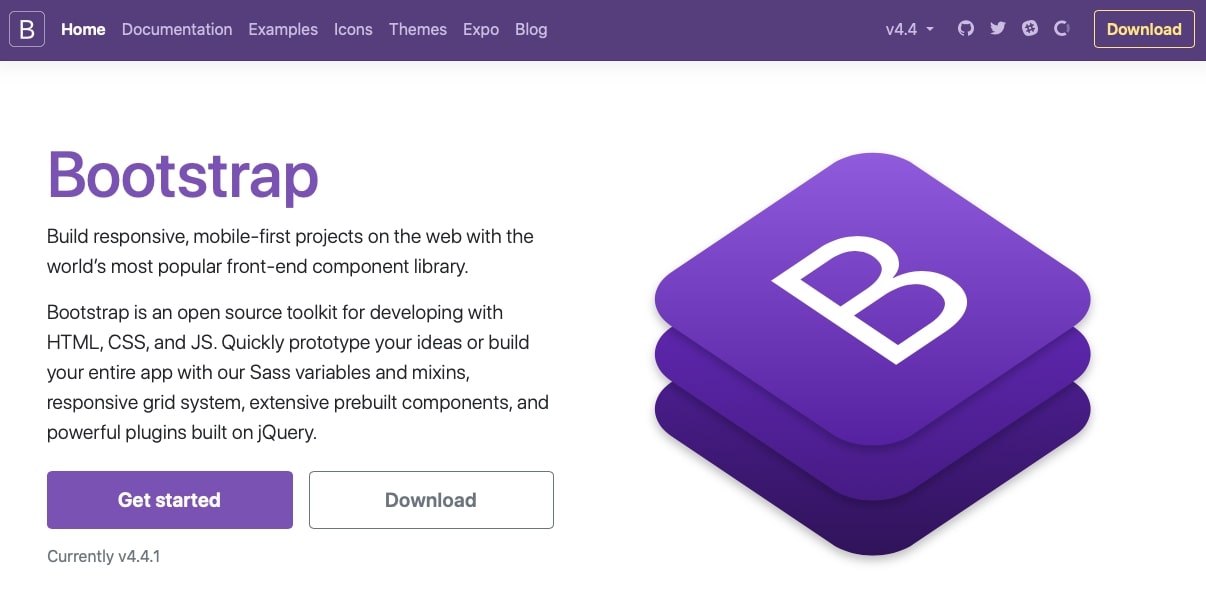 If you've ever heard of a front-end framework, it's probably Bootstrap. The mobile-first HTML, Javascript, and CSS component library are insanely popular. Integration is super easy; just install using a package manager like npm or using Bootstrap's own CDN.
With Bootstrap, it's easy to design responsive websitesthanks to its grid system, so your sites will always look good on mobile. Youcan shave off a lot of time by starting with a framework, and make your codemuch more consistent.
Pros:
Cons: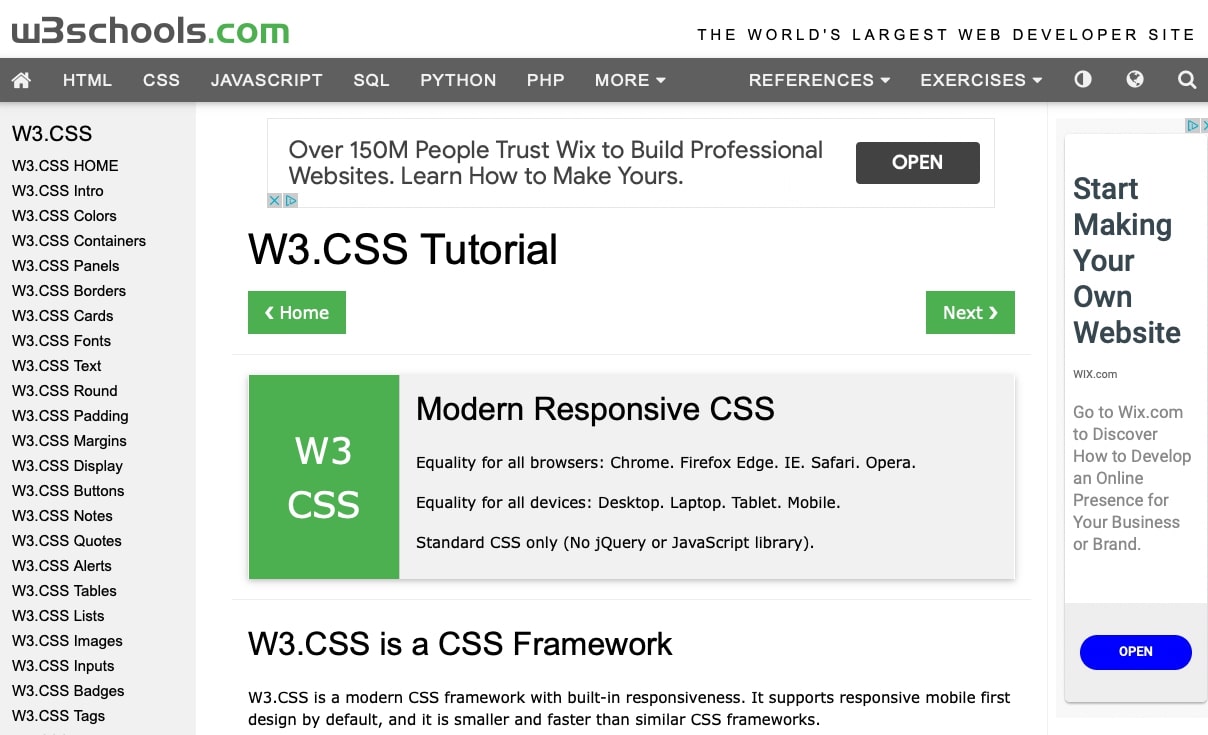 Made by one of the most helpful coding resources on the web, W3.CSS is a simple, lightweight, and versatile framework. It's responsive out of the box, and unlike other frameworks, it's extremely fast and won't slow down your server. All you need to do is add its stylesheet to your site.
Pros:
Cons: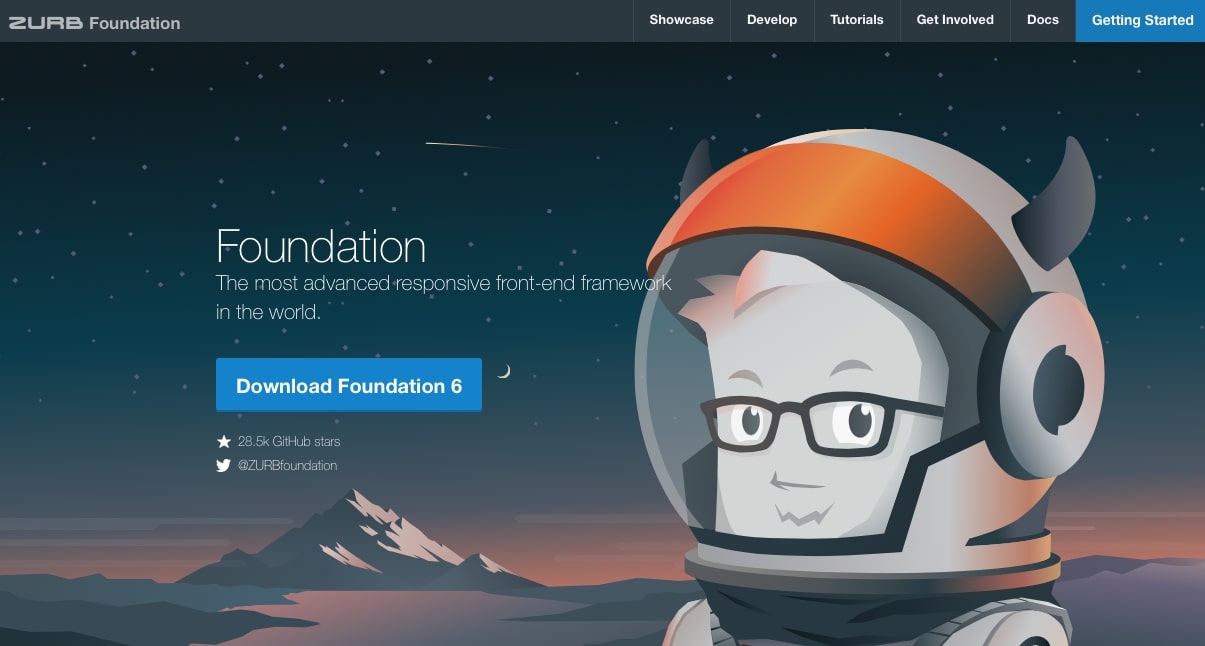 Built to be clean and responsive, Foundation is suitable if you're looking to build a responsive site that loads lightning-fast and is free of any unnecessary code. Its goal is similar to W3.CSS, but more suitable for larger projects, and much more customizable.
Pros:
Cons: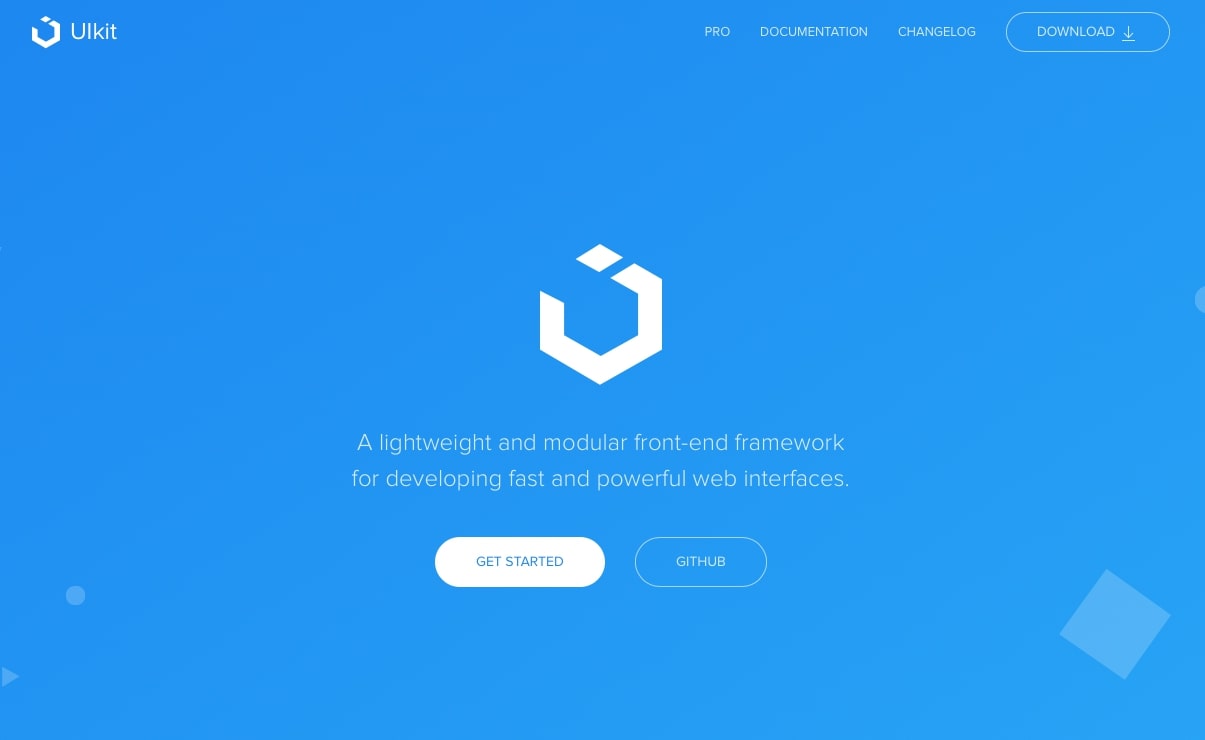 Want to add interactive features to your sites like accordion menus, containers, dropdowns, countdown timers, and lightboxes? UIkit has everything you need to build your website and populate it with interesting, dynamic elements. Though it comes with a grid to build layouts in, the focus is on adding modular components to your website.
Pros:
Cons: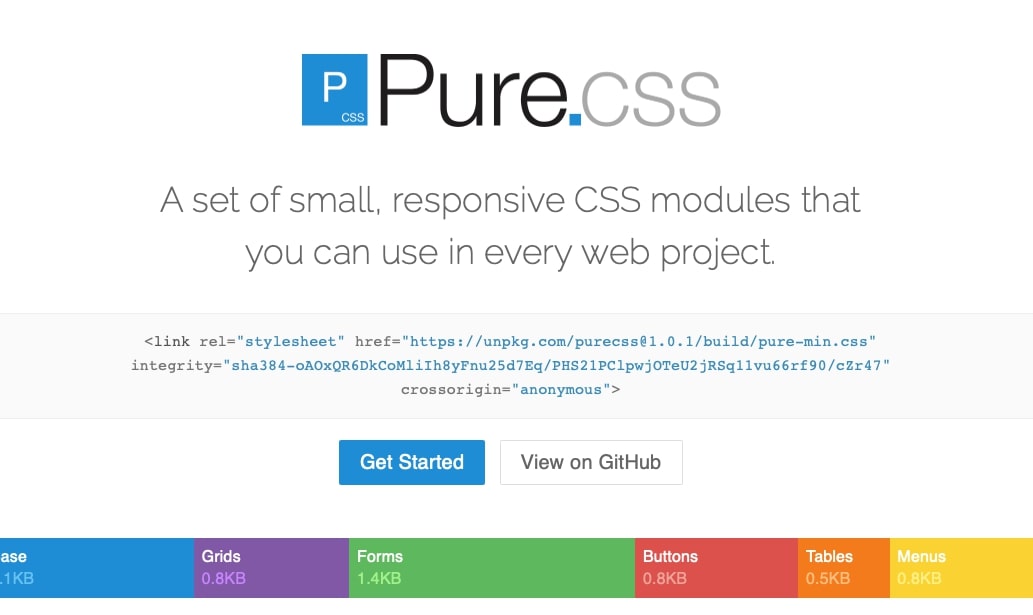 Is even UIkit too heavy for you? Pure is made entirely ofa single file: its CSS stylesheet. No Javascript to bog your site down. Withit, you can both create responsive layouts with grids and menus, as well as adddynamic components like forms and buttons to your site.
Pros:
Cons: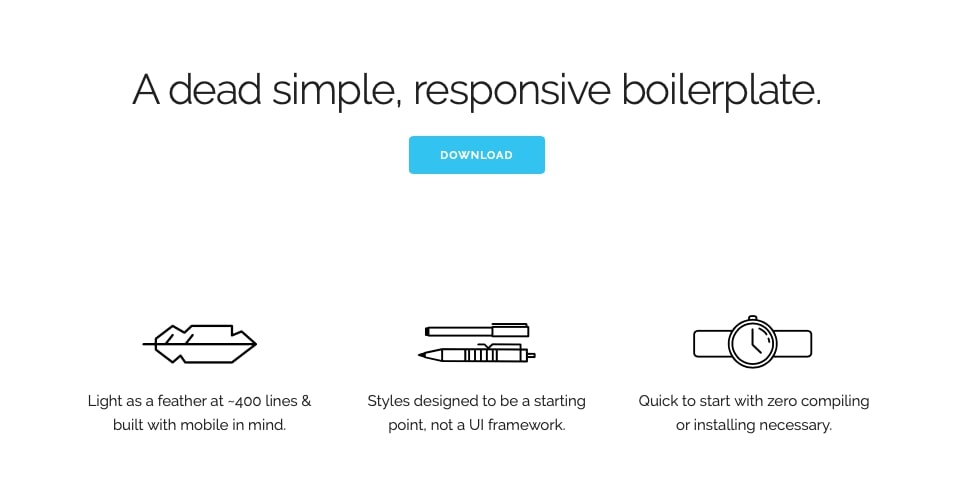 Skeleton is a little different since it's a boilerplate, not a framework; in other words, it provides simple, reusable code that offers the minimum features you'll need for site-building.
Many frameworks are bogged down by things you'll never useand heavy code that can tax your server. Skeleton gives you the basic modulesyou'll need to get started, and lets you build on them to create a website.
Pros:
Cons: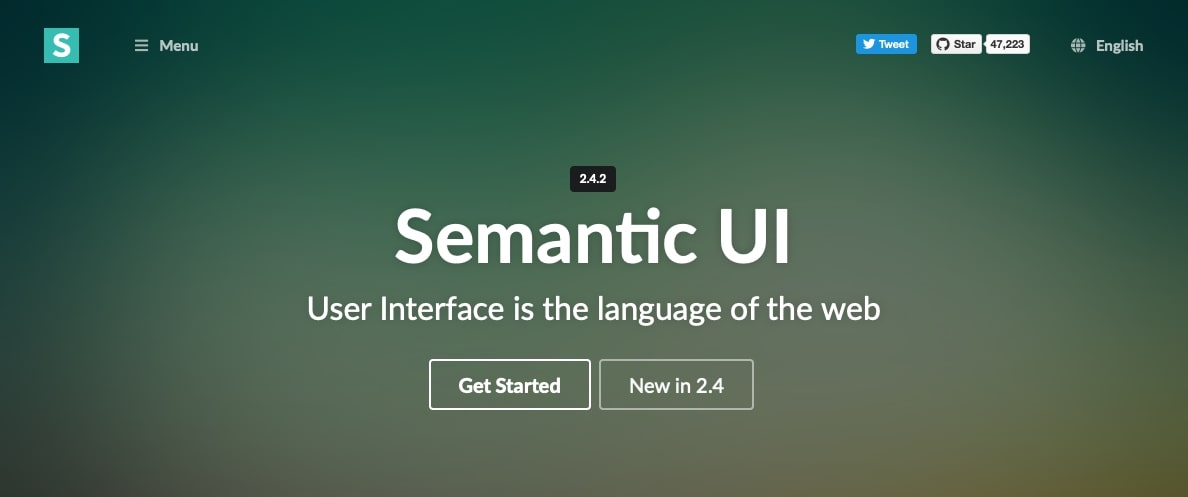 Unlike other frameworks, Semantic UI is built to bereadable and modular. The HTML and Javascript code is concise and easy tolearn, making theme building a painless process. It comes with several helpfulcomponents to ensure that building and customizing your website is no hassle.
Pros:
Cons:
How to Choose the Best Web DesignSoftware
There's a lot of software here, so you might be feelingoverwhelmed. The best thing you can do is decide on the scope of your projectfirst, then pick the category that fits best.
If you're an absolute beginner and just want a simple toolthat's easy to use and can put out a website as quickly as possible, a websitebuilder is best for you. They don't have a lot of customization compared toother options, but they get the job done fast, and it's easy to create a prettywebsite with minimal effort.
Should you need a tool that's more flexible and haslimitless customization, while still being fairly easy to get into as abeginner, consider WordPress. It's suitable for both small personal projectsand as a platform for web designers who want to get into the industry.
If you're looking to become a web designer or want to create your own graphics, look for the best web design software for beginners and put together a toolkit that perfectly fits your goals.
And finally, if you want to code your own website fromscratch using HTML, CSS, and Javascript, try a front-end framework. You can usethem with WordPress too and essentially build your own custom themes!
From here, it's just a matter of going over the pros andcons of each software, and deciding which will work best for you.
source
https://wpastra.com/best-web-design-software/